Your brand-new silver jewelry design reaches its ultimate condition when it goes through our Finishing process.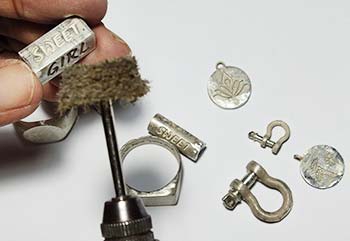 Once your piece is cast, a talented craftsperson provides the finishing touches. Here is where the cleaning, polishing, and sanding bring your jewelry to its pristine perfection.
We clean the design using a magnetic tumbler, ultrasonic machine, pickling, sanding, and polishing. At this step, we can also apply oxidation, plating, laser engraving or give the piece a hammered finish, and we can add embellishments such as stones or jewels as well.
Once this step is complete, your item will go through a final inspection to ensure you will be 100% satisfied.
---
Sketch ~ 3D Model ~ 3D Print ~ Wax Carving ~ Mold Making ~ Wax Injection ~ Casting ~ Finishing ~ Laser Engraving